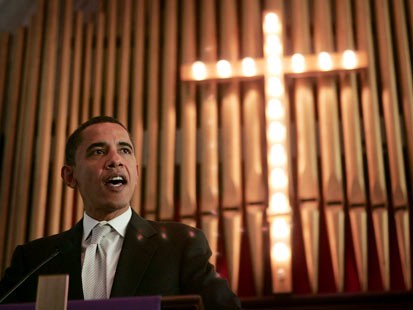 How do we choose our leaders? Supposedly we elect the president in a democratic
process. The writers of the Constitution wanted to prevent the consolidation of power in the hands of the few. But with so many people demanding change, it seems something has gone wrong with the political process. Its easy to blame George Bush and his administration, but its more complex than that. For instance, why is that when George Bush decided that he was chosen by God to be the President of the United States, so many Americans wanted to vote for him? [Read Online Article: "Heaven Sent: Does God Endorse George Bush?"]
Whether George Bush really believes it or not, all the experts agree it was a highly effective political maneuver. With the result that in a country which has always honored the separation of church and state, we now see presidential candidates touting their faith. [Read Online Article: "Faith Factor: Dems Discuss Religion, Values"]
In Matthew 3:13-17 Jesus is baptized by John the Baptist. Scholars claim that Jesus' baptism represents Jesus' anointing as a Jewish king. First he is purified in the water, then he is anointed by God's spirit (the descent of the dove), and finally God announces that Jesus is his chosen one. The scholars, without skipping a beat, go on to discuss the theological significance of Jesus' baptism. They don't take issue with it because, in Jesus' day and age religion and government were inseparable.
But is there any difference between Jesus' followers making this claim, and George Bush's supporters doing the same? Whatever God said or didn't say at Jesus' baptism - that's not what synched Jesus as king. In fact John the Baptist thought that Jesus shouldn't bother being baptized, but Jesus insisted, claiming that all righteousness should be fulfilled.
What does Jesus mean by righteousness? In the 2008 presidential election there is no lack of self-righteousness on the part of the political parties or the individual candidates. Possibly Jesus means that all the proper political procedures for choosing the king should be followed? In the present day this could mean guaranteeing fair elections, getting rid of corporate lobbyists and letting the democratic process work its magic.
Jesus is indeed talking about the restoration of the political process. But the problem runs deeper than ballot rigging and corporate campaign donors. In Jesus' time the political process had been corrupted by the people's desire to have a king like the other nations. Rather than trust God's loving care and compassion for them, and remaining faithful to God's vision for a just society, the people insisted on a king powerful enough to destroy their enemies, increase their fortunes, and elevate their status among the other nations. [See 1 Samuel 8] However, centuries later, a long line of kings had cost the people far too much: their leaders had taken their lands, enslaved their loved ones, and led them into disastrous wars.
Jesus understands himself to be the next king, but on very different terms. Notice how righteousness is used in Isaiah 42:1-9, one of the prophetic texts that many scholars say directly influenced Jesus' own understanding of his vocation:
I have called you in righteousness,
I have taken you by the hand and kept you;
I have given you as a covenant to the people,
a light to the nations,
to open the eyes that are blind,
to bring out the prisoners from the dungeon,
from the prison those who sit in darkness.
This follows the description of a servant who will bring justice, but in stark contrast to the rulers of the nations (Paul Hanson, Isaiah 40-66, 45):
Here is my servant, whom I uphold,
my chosen, in whom my soul delights;
I have put my spirit upon him;
he will bring forth justice to the nations.
He will not cry or lift up his voice,
or make it heard in the street;
a bruised reed he will not break,
and a dimly burning wick he will not quench;
he will faithfully bring forth justice.
Imagine a candidate like that today, what would that person look like? How would he or she behave? Be honest: would you even vote for them?
Maybe, if you are tired of the corruption and the broken promises, if you believe that our society can still be a source of hope for the poor, the oppressed, the downtrodden… then like those who recognized Jesus as the messiah promised by the prophets of long ago, you may be ready for a leader, who, because they are willing to uphold justice for all peoples, because they refuse to use violent force or divisive language, is in a way, chosen by god.
Comments (0)